NEWS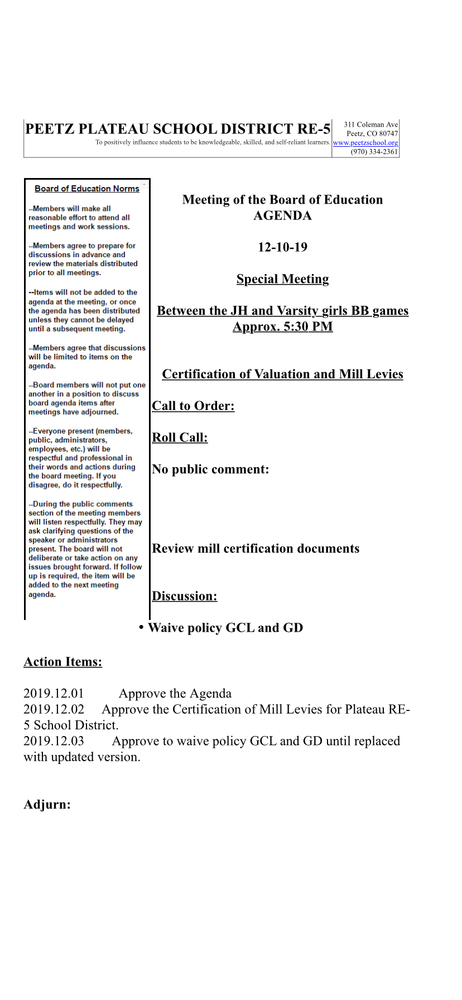 Special School Board meeting
The PEO Christmas Store will be open on December 11-13th for students in Preschool - 6th grade to shop for family members. Each child will be coming home with a flyer today with details. If you...
November elections brought a new face to the Peetz School Board. Darrin Fehringer will replace Danny Wood on the board. Tuesday, November 19th, Mr. Seger presented Danny Wood with a certificate of...
SEE ALL NEWS
LIVE FEED
We are testing our new app and having a monthly drill. We will be having a short lockout drill at 2:00 today 12-13-19.
2 days ago |
Dustin Seger

After the Christmas Concert, please stop the Bulldog room (Mrs. Raffelson's old room) for fun Christmas shopping. The PEO has many gift ideas for you to purchase. Follow the signs from the small gym.
2 days ago |
Kelly Barrett

Aloha from DLC!!
Attitude
Opportunity
Leadership
Happiness
Ambition
All traits our FFA members are coming home with today!!
view image
4 days ago |
Mike Forster

Eligible Freshman and Sophomores FFA members remember tomorrow is DLC @ NJC and will be leaving @ 8:15 am in official dress
5 days ago |
Kelly Barrett
SEE ALL POSTS
Events