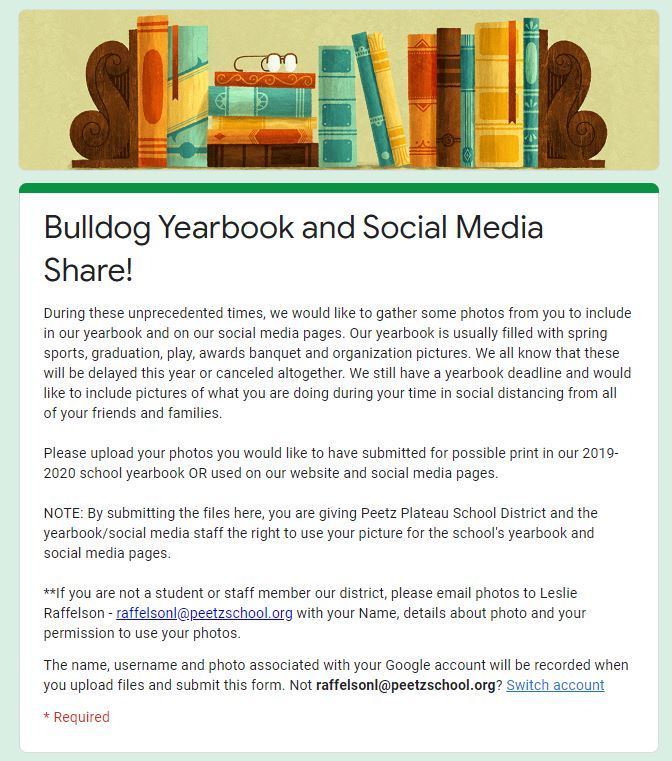 Bulldog Yearbook needs your help!
Leslie Raffelson
Monday, March 30, 2020
Bulldog Yearbook and Social Media Share!
During these unprecedented times, we would like to gather some photos from you to include in our yearbook and on our social media pages. Our yearbook is usually filled with spring sports, graduation, play, awards banquet and organization pictures. We all know that these will be delayed this year or canceled altogether. We still have a yearbook deadline and would like to include pictures of what you are doing during your time in social distancing from all of your friends and families.
Please upload your photos you would like to have submitted for possible print in our 2019-2020 school yearbook OR used on our website and social media pages.
NOTE: By submitting the files here, you are giving Peetz Plateau School District and the yearbook/social media staff the right to use your picture for the school's yearbook and social media pages.
**If you are not a student or staff member of our district, please email photos to Leslie Raffelson - raffelsonl@peetzschool.org with your Name, details about the photo and your permission to use your photos.